I will be teaching a machine appliqué technique that will look like you did the appliqué by hand when you are finished with your project!
We will make this scrappy Orange Peel pillow using a foundation paper on the inside of your appliqué, that when soaked will change to a puffed fiber. Because your appliqué fabric will be pre-washed and shrunk and the rest of your fabric will not, this will pull your stitches into your base fabric making the stitches disappear! (Click on image for larger view.)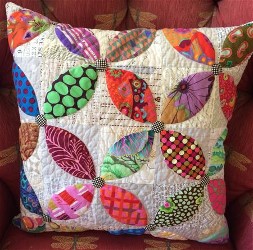 Kits will be available for sale as well as the foundation paper to make the class easy to prepare for and easy to complete your project!
Becky's website provides more information about her classes.