This 1-day workshop presents to the participants, steps required to turn inspirational original photographs(s) and create a pattern that then can be used to create an amazing fabric art.
This workshop will hone your skills needed to go home, take your favorite photo, and create an amazing textile from it. Grace will show how to enhance perspective and depth, how to proportionately enlarge the drawing from the photo(s) and how to incorporate multiple photos in one design. We will also discuss what to look for when taking photos for potential art quilts.
In this class we will all be working on the same photo provided by Grace. Using this simple photo we will go through the steps of identifying shapes, creating the pattern, and value-lizing the final pattern for easy fabric selection. (Click on image for larger view.)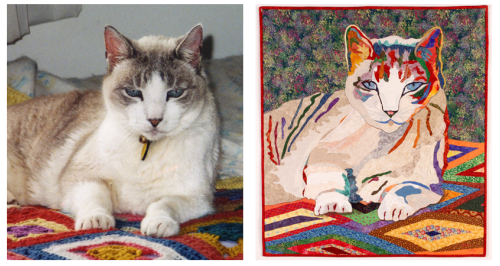 Grace will provide the photo to work from, and she will provide copies of the pattern from that photo to start your creation. You will learn the steps to create freezer paper templates and the vinyl map for the quilt constructions.
This class requires a kit provided by the teacher containing the photo used in the class, and the pattern sample. Kit fee: $20.00
The supply list includes the materials and supplies needed for the workshop.
Grace's website provides more information about her classes.