The naive charm of Baltimore album quilts still fascinates us to this day. Rita invites you to join her in this class for an in depth study of these wonders of craft and color. You will learn about the fabrics that were used then and ones Rita chooses now to suggest shading, contour and texture. Dimension, movement, and flow are added to the visual language of Rita's sample image with her use of fabric prints. Rita will help you build your own fabric expression to create a beautiful story.
This block will also revisit all appliqué skills like basic stitch, pointy leaves, inverted v's and valleys to assure your success to stitch this charming image. (Click on image for a larger view.)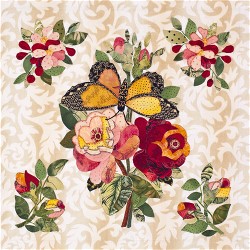 The supply list will be provided at a later date.
Workshop fee: Members $30, Non-members $40.
Rita's website provides more information.